Refrigerator repair
Satisfaction Guaranteed
A fridge on the fritz is more than inconvenient, it's a messy problem. Whether you have a broken ice maker, a faulty temperature gauge, or a case of hot and cold, we are here to keep your kitchen running smoothly. Bringer specializes in Louisville refrigerator repair to ensure your fridge keeps its cool.
Refrigerator Temperature
A fridge only has one job: keep things cool. Temperature is the most important gauge in a refrigerator. Ensuring that your fridge stays at the correct temperature is not just about keeping your ice cream from melting, it's about ensuring your food is safe to consume. In most refrigerators, there are two distinct sides and two distinct temperature gauges. For the freezer side, the temperature should be set and maintained at 0-5 degrees. For fresh food on the refrigerator side, it should be set at 35-40 degrees. To check the temperature in your fridge, place a glass of water inside and put a thermometer in the glass, give it a few hours and check the temperature. If your fridge and/or freezer is not maintaining the ideal temperature, it's time to call in A One Appliance Repair in Louisville before the problem gets worse.
Repair or Replace Your Refrigerator
Typically, the lifetime of a fridge is between 6-10 years. The life of the unit may depend on how well the appliance has been maintained. Our professional technicians are able to diagnose perform refrigerator repair services as well as provide annual maintenance to extend the life of your appliance. When necessary, we provide an honest diagnostic and estimate to help you determine whether it's worth repairing your appliance, or time for a replacement.
Fridge Maintenance
Most homeowners sweep right past the fridge when it comes to appliance maintenance. Pulling out the refrigerator once or twice a year to inspect and clean is a tall order. Let us take care of spring cleaning for you. Our professional appliance repairmen can take care of your fridge maintenance by cleaning the condenser coils, inspect the drain lines, and remove and replace the drip tray, and ensure your appliance is in working order and running as efficiently as possible.
Refrigerator Brands We Repair
We come to your home prepared to maintain, repair, or replace common parts on all of the most common brands. We are trained to work on any fridge including Amana, GE, Frigidaire, Electrolux, Kenmore, Whirlpool, Sears, Kitchen Aid, Jenn-Air, Maytag, LG, Samsung, Admiral, and others.
No matter what problem you are having with you fridge, A One Appliance Repair is ready and able to help keep the milk from spoiling.
A smoothly running appliance is only a call or text away!
If you're in need of appliance repair, trust our experts for quick, affordable repair.
Other common refrigerator problems we can fix:
not cooling, leaking water, not cold enough
too cold, light not working, runs constantly
not defrosting, noisy or loud
ice dispenser not working, water dispenser not working
ice machine overflowing, ice maker not making ice
ice maker not working, ice maker leaking
air damper seal replacement, condeser cleaning
drain cleaning, drain line snaking
defrosting ice buildups, defrost drain clog
repair or replacement, rewiring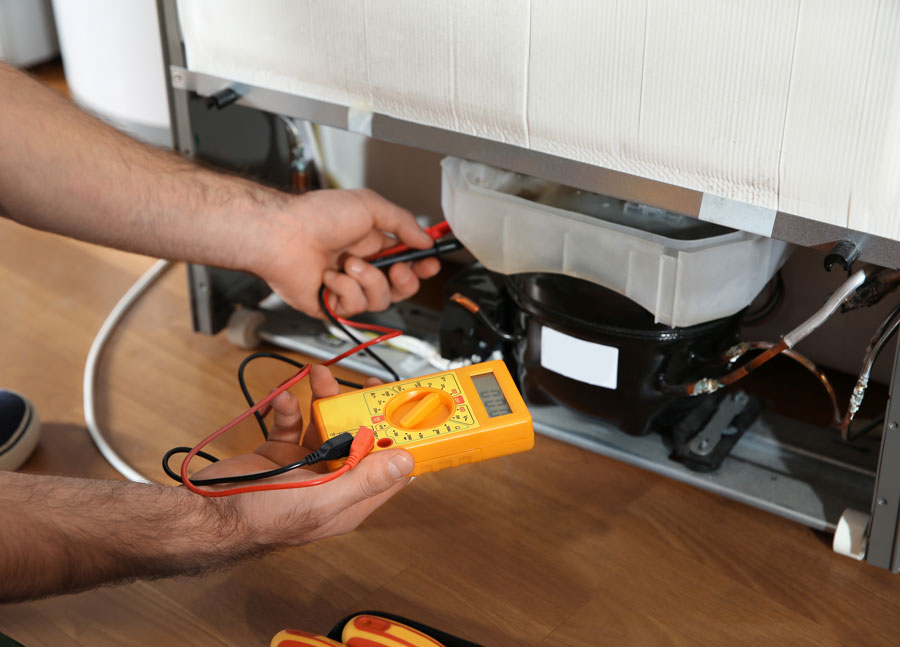 A smoothly running appliance is only a call or text away!