Dryer Repair
Always Available
Having a dryer to instantly dry and steam your clothing makes laundry much simpler until it develops a mind of its own and refuses to work as expected. When you are faced with a fit from your machine, call A one Appliance in Louisville, Ky to fix the problem and set things right again. We deal with all the most common symptoms and problems from most major brands with factory trained technicians that are both professional and courteous.
Dryer Basics
Clothes dryers are either electric, or a combination of both electric and gas-powered. Of the two types, electric appliances are simpler with only a control panel, switch, motor, burner and interior light. Gas machines are similar, but have the added component of a more complicated burner assembly with a gas valve, an igniter, and thermostats.
We provide both maintenance and repair for both types for many of the most popular brands including
Admiral, Amana, Electrolux, Frigidaire
General Electric, Haier, Hotpoint, Jenn-Air
Kenmore, Kitchen Aid LG, Magic Chef, Maytag, Roper
Samsung, Tappan, Whirlpool, Westinghouse
Dryer Maintenance
Unless you have several hundred clothespins and a line on hand, your clothes dryer is very important to keep running efficiently. The best way to ensure years of reliability is with basic maintenance. The biggest part of maintenance is simply cleaning the lint filter and keeping the vent clean. This simple task keeps your dryer from overheating, eliminates a possible fire hazard, and provides the air flow necessary for the machine to function.
Dryer Repair vs. Replacement
Generally a dryer repair is simple and inexpensive. However, some machines are extremely sophisticated, and have circuit boards, electronic equipment, and computer chips that may go out. We are able to diagnose and fix a variety of problems that may occur with your equipment.
We also provide an honest opinion when it's time to replace your machine. Generally, if the cost more than 1/3 the cost of a new machine, it is in your best interest to replace the entire machine versus risking one or two costly repairs.
When Your Dryer Needs a Repair
Even with the most diligent maintenance schedule, you may still experience common problems with your dryer. If your appliance is not heating, overheating, is noisy while running or doesn't run at all, no issue is too big or too small to call A One Appliance Repair. Some of the most common Louisville house calls we receive include:
won't start or turn on at all
turns on, but not spinning
will not get hot
makes loud noise when running
takes too long to get clothes dry
We don't want to leave you with a pile of wet laundry, so if something goes wrong, don't hesitate to give us a call.
A smoothly running appliance is only a call or text away!
If you're in need of appliance repair, trust our experts for quick, affordable service.
Other common dryer problems we can fix:
won't turn off
stops turning during cycle
shutting off, trips breaker
not getting hot, not drying clothes
overheating or burning smell
vent cleaning
removal of build ups of lint
replacement of vent line
heating element replacement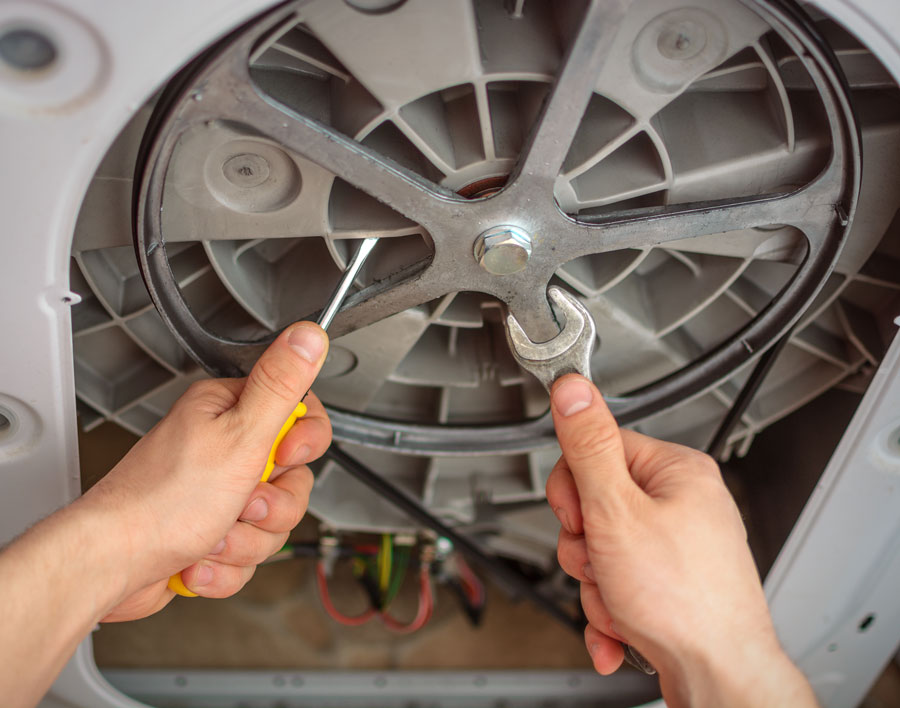 A smoothly running appliance is only a call or text away!